Urgent Calls for Help!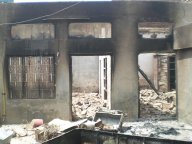 Urgent Need: Relief for Christians in Pakistan Attacked by Extremists
July 31, 2009, returning from his family's medical trip to Lahore, Shahbaz was astonished to find the village No. 362, GB Koriyan (in the Toba Tek Singh district) in smoke and the road blocked off. The next day he learned that 40 Christian houses had been burned in that village. All because some Muslim extremists had accused a young boy of burning some pages of the Holy Quran. A call had gone out to all Muslims to set fire to about 40 Christian homes to teach them a lesson. Women, children and the elderly escaped into the fields to save their lives, but many were feared dead. . . . . .
Read MORE
Urgent Calls for Help!
The Global Nomad tells me his friends David and Wendy Keith are urging help for other friends, Peter and Michelle, who operate the Swaziland Pasture Valley Children's Home, an Orphanage. They are in serious need of funds these days. If you would be prepared to send them some money in a hurry, please get in touch with me via my Reach Me page, and I'll give you their email so you can correspond with them directly.
Can you help us Network?
The Nomad says: "I heard from a friend I met on the ship a little while ago. This friend has invented the new water treatment plant and sent me a note asking if I could assist him in placing one of these with a project somewhere. The units cost a couple of thousand pounds or more. The recipients would just need to pay the freight to their base in the developing world. Have written to two or three potential folk. Value your prayer for the right placement. Another kind and generous donation. He may well donate several. I know that he was thinking along those lines." Do you know of a worthy group that needs a water treatment plant?