Giving as a Fast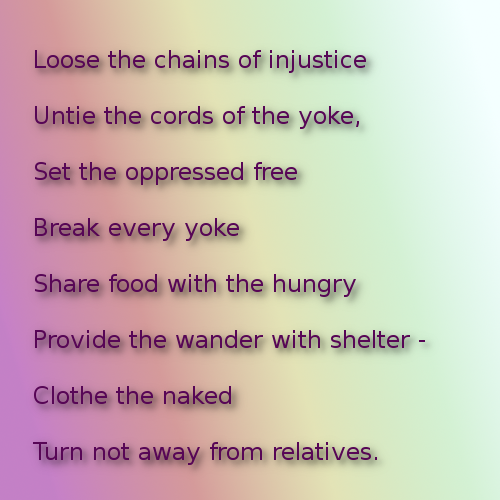 Have you ever considered giving as a fast? Perhaps you don't fast from food for various reasons; you may have health reasons, or you may simply be too attached to food to give it up. There is another way. God's favourite fast for us is giving.
Really?
That's what He says in Isaiah 58: 6-7; "Is this not the kind of fasting I have chosen: to loose the chains of injustice and untie the cords of the yoke, and to set the oppressed free and break every yoke? Is it not to share your food with the hungry and to provide the poor wander with shelter - when you see the naked, to clothe him, and not to turn away from your own flesh and blood?"
If the purpose of a fast is to focus on God, wouldn't be wise to do it the way He wants a fast done? He says He wants us to break injustice, set the oppressed free, feed the hungry, shelter the homeless, clothe the naked, and not to ignore our own relatives in need.
So we don't necessarily have to starve ourselves. Let's see if it is so hard to do this giving as a fast. Look around - do you know anyone tied up in injustice? Who is experiencing something unfair? This could be a sibling or friend who is often picked on and treated unfairly. We all seem to know someone like this. (If we are not too absorbed in feeling like a victim ourselves).
Think of a way to step in as a champion for the one that is mistreated. Maybe it just means speaking up for them. Think and pray about the situation, and good ideas will come.
What about sharing food with the hungry? Sometimes we think a friend doesn't have a big appetite, but it may simply be that they can't afford as many groceries as we have, or to eat out in a restaurant. See what happens if you ask them to share your food, or invite them out for lunch - your treat. Of course, if you know of a mission that feeds the hungry in a third world country, and if you can share some money, do send it in! You might save some from starving to death!
God also describes in that Isaiah passage, that His kind of fast includes providing shelter for the poor wanderer, and when you see someone naked, to clothe that person. You may not have a lot of money to give, but consider your circle of contacts. Isn't there someone who needs a place to stay for a while? Have you got room for a guest at your place? What about extra clothes?
Do you know that people are often honoured to accept some items of clothing if you give them personally, item by item? You could, of course, donate them to a second-hand or recycling store and the poor can come buy them at a low price and maintain a measure of dignity.
I have been at the receiving end in both ways. I liked the ability to choose what clothing I wanted, but when the funds were too low and a relative offered me a few items out of her own first-class closet I was deeply moved and grateful for clothing I could never have afforded otherwise.
Which brings me to the last point God describes in those verses; not to turn away from our own flesh and blood. That's our relatives. Do you have relatives in need? What about those odd ones, or the difficult to get-along relatives? First pray for them, ask God for a loving and understanding heart, and what you can do for them to show the love and provision of God.
He will answer you. In surprising ways! Go and do them; then you'll be giving as a fast that will please God tremendously! He'll show that to you too.
Please Contact Ruth for permission to reprint this article.