Joy Wells Up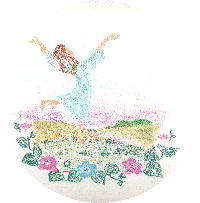 My overflowing joy wells up in rich generosity in the midst of hard times and extreme poverty.
Out of the most severe trial, their overflowing joy and their extreme poverty welled up in rich generosity. (2 Corinthians 8:2)
If you have traveled to third world countries and tipped or given a gift to a very poor person, you may have been surprised at how very grateful they are. If you have experienced their hospitality, you have been amazed at how their joy wells up; how gladly they give up all they have for you.
If you have not traveled abroad, surely you have heard others describe this astonishing phenomena, right?
I have grown up poor and although not in such extreme poverty as to be starving to death, or living homeless on the streets, I know the great joy that welled up for unexpected gifts. In our home we welcomed visitors and happily shared the best we had with them for as long as we could get them to stay. Thinking more objectively now in hindsight, I think we made it hard for some guests to leave.
It was always a wonderful event when Aunt Ann came to visit, for she over-tipped so much for the least favour we did for her. When I was caring for my aged parents she often slipped me $100 for taking her on to the next relative's home where she wanted to visit.
So don't say that you have nothing to give. No matter how poor you are, you can give out of your limited resources and have true joy well up in your heart. Because the joy that comes from giving far eclipses the joy that comes from receiving. It doesn't matter whether you are needy yourself, or not. Most especially does this apply when you are a believer, and you are giving in Jesus' name.
Why would this be true?
This assumes that as true believers, when we are in extreme poverty we learn to trust the Lord to meet our needs. As we give out of our limited resources, we discover that He really does provide we are filled with joy and a desire to share with others.
People with low horizons are grateful for any help received. This would account for happy, giving poor people in a general way. But spiritual Christians who grasp eternal truths and who experience God's tremendous provision have a more unique joy well up, and truly delight in giving to others.
If God is for us, who can be against us? He who did not spare his own Son, but gave him up for us all - how will he not also, along with him, graciously give us all things? (Romans 8:31-32 NIV)
So whether you feel you have plenty, or next to nothing, if you have not tried giving with a willing heart out of whatever resources God has giving you, then please try it! You will soon find a joy wells up in you that you can't describe.
Remember too, that it doesn't always have to be money. Your wealth may be in the skills God has given you, or perhaps in the depth of your spiritual knowledge and maturity. Out of that you may serve by your actions and do things that money could never buy. Ask God to show you what you have to give. Once you see your rich resources with your spiritual eyes, You will become eager to give!
Presently my financial resources are increasing. The pressure to make-do is easing. But as I look back over the decades of my life, I see now that God has been preparing me for my present lifestyle through all those years of poverty, when He was just meeting my needs according to my degree of faith, asking, and my generosity. I am totally sold on GIVING now.
Maybe, the joy that wells up upon giving is a bit addictive too.
If these guidelines raise new questions in your mind, browse around on this site. You may just find the answers. Check the
Articles Index
, the
Givers Index
, (real examples), the
Ideas/How-tos Index
, and
Worthy Causes Index
Please Contact Ruth for permission to reprint this article