What Have I to Give
Do you also find yourself asking, "what have I to give?" when the needs of others are so great?
I have often wished I had great wealth so I could meet all the needs of certain people or missionaries. I have daydreamed of dramatically solving all the problems in certain situations. My willingness to give is on a grand scale. Way beyond my means.
Then I come to a verse like this in the Bible, "For if the willingness is there, the gift is acceptable according to what one has, not according to what he does not have." (2 Corinthians 8:12).
That provides a little comfort; at least I won't be judged for not giving more than what I have to give. That verse tells us that if we give willingly, God will only expect us to give according to the size of our resources. Not on the scale of my daydreams. God will grade my giving out of the resources I have to give, rather than what I wish I had.
So What Do I Have to Give?
Instead of throwing up my hands, and saying "I can't give" I need to ask, "So what DO I have from which I can give, even meagerly?" I decided to assess my resources.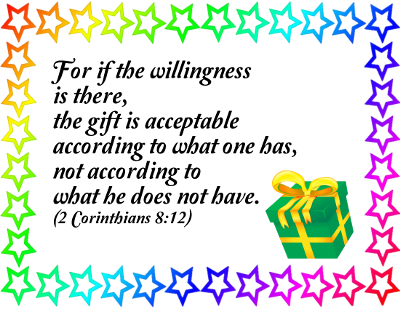 You will find this a surprising and encouraging exercise too.
I've been tithing on all my income since my very first job after high school. There have been times it was only 50 cents, for during my caregiver years in my parents' home, I lived by faith and truly did not get a regular income. Only tips for favours for other elderly people, and sometimes gifts from my Pen Pals. But I had full intentions of keeping up that much of a giving commitment to God, and I didn't want to lose the habit. When I get my annual receipt from the church for income tax purposes I am often surprised at how much I gave over the whole year.
I heartily recommend tithing. But as my desire to give has grown I have continued to ask myself, "what have I to give right now?
First I looked at my possessions. Mostly books and craft supplies that I squirreled away as I received them, often as things others were tossing out. I suppose I don't have to keep all of that, but so many others would see that as junk. Still, I promised the Lord, that whenever I saw that something I had or could make, such as greeting cards or small gifts, from my meager resources, I would give those things gladly, and not hoard my stuff just to own it. Gradually I have come to think of the stuff I store in my basement as my resources for giving.
It's true that in my present stage of life I don't have as much time for card and gift-making as I used to, but I'm loath to get rid of much of that stuff because I see it's potential. (And yes, I am weeding things out now when I can clear a few hours for that).
What about my time and skills? My spiritual experiences and Bible knowledge - hey, even my faith to pray for others' needs can be considered resources. Are these not things which I have to give?
That realization has put a whole new light on my lifestyle. At first I just felt I could help in Children's ministries in church. I didn't think adults would appreciate my level of craft skills. But with experience that has grown and branched off in various directions. Writing and self-publishing some books, for example. Writing monthly pen pal letters. Then, when I taught myself how to design websites, I discovered various missions and ministries around the world that needed websites too, and I started giving my tme and skills to help them out - all the time growing and increasing in knowledge and skills.
By writing out my devotional studies and thoughts each morning, I find that I have articles to share and these can become books, or web pages too. Then I reserve some time for intercession for my lists of relatives, friends, and missionaries.
Truly, my life is now oozing with giving of many kinds, just giving out of what I have to give, even though I am far from being a wealthy person yet. So I want to encourage you to look honestly at what you have to give - out of your income no matter how small, out of your possessions, and also out of your supply of time and skills. Remember, God gives each of us 24 hours a day - no one gets more or less - and those precious minutes dribble away if we don't decide to spend them wisely, givingly.
As you are faithful in giving out of what you have, guess what, - your supply of resources will increase. Just go back to study 2 Corinthians chapter 8, the "Giving and Generosity" chapter in the Bible. There you will find fantastic promises that I love, such as these;
And God is able to make all grace abound to you, so that in all things at all times, having all that you need, you will abound in every good work. (2 Cor. 8:8)

Now he who supplies seed to the sower and bread for food will also supply and increase your store of seed and will enlarge the harvest of your righteousness. You will be made rich in every way so that you can be generous on every occasion, and through us your generosity will result in thanksgiving to God. (2 Cor. 8:10-11).
Organize and improve your giving out of what you have to give right now. The above verses are our guarantee that as we need them, or as we learn to manage our giving resources, God will increase what we have to give.
God is so practical!
At this stage in my life I am a small online business owner, and gradually the use of my skills is increasing my financial giving resources. My dreams of being able to give larger financial gifts are becoming more vivid on my horizon.
If these guidelines raise new questions in your mind, browse around on this site. You may just find the answers. Check the
Articles Index
, the
Givers Index
, (real examples), the
Ideas/How-tos Index
, and
Worthy Causes Index
Please Contact Ruth for permission to reprint this article