Generosity
big-heartedness as a way of life
(c)2004 Michael Wakely Published by Inter-Varsity Press
ISBN 1-84474-020-x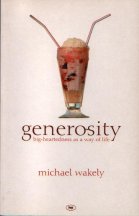 Fatherless from age two, Wakely found many other good father-figures around him and learned some good lessons about giving gladly. These he shares in stories about his headmaster, and his Uncle Henry, and a Mr. Whicker who was his history and Latin teacher. Each one contributed to his character and understanding of generosity and how it was to be applied.
Wakely tells too, how God gave us a garden on earth, and longing for fellowship with others, He created Adam and then Eve, His greatest creation.
But they fell into disobedience. So God gave again - His only begotten Son, to redeem all who would receive and belief this great gift.
Other stories reveal that most of us are suspicious if someone offers us something for nothing. We suspect a catch.
There is a certain dignity to true generosity, as we can learn from visits to the very poor in third world countries. These people are most times extremely poor, but unself-consciously so. They do show great dignity in not complaining about their financial standing - instead, they zero in on you, the guest, and give you the best it is possible for them to give, even if it is all the food their family will get for the next three to seven days!
If we have accepted God's gift of His Son, He has become our Heavenly Father, and wants to shower many more gifts on us. Only on His terms. We are to become like Christ in our nature.
All that in just the first three chapters. The rest of this 144 page book, is given to practical suggestions for maturing our generous, Christ-like nature, and developing dignity.
For one, we can make lifestyle choices. Like living on a tithe, and giving the Lord all the rest. We can avoid exhibitionism and glorying in poverty, (or riches), and the chasing of the golden egg, or living with a constant debt.
I cannot agree more with the author on this area. I appreciate all of the book, but I have tried these lifestyle changes over the last 23 years especially, and found that the more I denied myself, the more generosity towards others welled up in me.
Being at the receiving end of kindnesses and gifts from others has taught me a few things about the art of giving gifts to others. The recipient needs to retain some dignity too.
The stories of people who become wealthy and gave it away, always inspire me. (We ought publish more of those stories to spread this desire). I'd read of C. T. Studd, before, but not of Arlington.
On page 84 Generosity manages to show 12 reasons why we should give to others, and also the Scripture verses on which each is founded. hose who have more, also have a greater responsibility to be good stewards of what is entrusted to us.
The blessings of giving, on the other hand, are described as an Australian boomerang. No matter how you throw this weapon, it is designed to return to you. Beyond the rewards promised us in Heaven, people will praise God and pray for us.
If you have grown up in a church-going family you may know all of the above, and still not be clear on how you can give. Wakely gives some chapters to this practical area too.
The example of John Wesley intrigued me. He became wealthy from all the books and pamphlets he wrote, but he had determined that he could live on 30 pounds a year, and he gave away all that came in above that. His philosophy on giving was summarized in his sermon on "The Danger of Riches," and I'll repeat the quote here;

"I gain all I can without hurting either my soul or my body. I save all I can, not willingly wasting anything, not a sheet of paper, not a cup of water... Yet by giving all I can, I am effectively secured from laying up treasures upon earth." (page 107).

Many of the suggestions made in this handy little book will become seeds for articles and helpful counsel on this site. I have found it very practical, and recommend this book to you.
Reviewer - Ruth Marlene Friesen.