The Hope of Glory
Global Nomad: There are many wonderful charity projects around the world. What are the distinctives of Hope of Glory?
Peggy: The uniqueness of the vision of Hope of Glory Ministry International, has a two point focus
1. Training local people to reach their own people with the Good News, thus making it an indigenous work, where one's own culture is understood more clearly, communication is more accurate, and people are less apt to get into performance.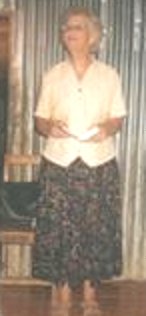 2. The 'house church' approach allows more participation, personal discovery, a relaxed family atmosphere that helps prevent the religious spirit getting a stronghold and a lifestyle of Christ-likeness is more likely to be emulated.
Global Nomad: How did Hope of Glory come into being?

Peggy

: Hope of Glory began in Denver, Colorado as a vision in 1982 to Leonard and Dori Funck - as they were led by the Holy Spirit. With much time in prayer, they began to train people to develop and conduct house churches as well as mentor others to do the same. Thus spreading like a vine, touching many more peoples' lives than those who just go to church - i.e. neighbors, friends, relatives, acquaintances of each new house church birthed by an existing house church.
After taking their house church training and opening my home for house church, I was led by the Spirit of God to go into missions, taking this 'house church' vision with me. After my DTS with YWAM in 1995, I joined the Mercy Ship Anastasis in Madagascar in 1996. I had never been out of my country before, other than just south of the border into Mexico. I lived and worked on the ship for 9 years, serving in many African countries - I sensed the Lord leading me to begin the 'house church' ministry in Sierra Leone, West Africa. In 2005, I disembarked the ship in Liberia, flew with all my 9 years of possessions to Freetown, Sierra Leone and began Hope of Glory Ministry International. The aim was to equip and send local people into every sector of their country, even beyond the borders to the nations of the world, to develop a 'house church' within walking distance of every man, woman and child in every village, town, city in every tribe and people group.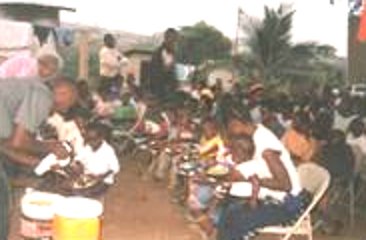 Global Nomad: In what parts of the world does Hope of Glory work?
Peggy: Hope of Glory is only in Sierra Leone and Liberia at this time - we have the vision of the 'Great Commission' and will take the Good News beyond the borders to the nations of the world as the Lord directs.
Global Nomad: Give some examples of feedback and response to some of your projects
Peggy: Pastors are taking this concept back to their congregations - imparting to them the responsibility to take the Gospel into their own realm of influence rather than maintaining 'bless me clubs', status quo, denominational walls separating Christian churches. Many of our students have been ordained by their churches, to pastor satellite churches in outlying communities, and /or been consulted to come on staff and Bible schools to teach different courses. Many have taken the Good News into their work places, changing the corrupt way of doing business, by allowing the Spirit of God to bring salvation to bosses, fellow employees, confronting customers with opposite spirit has brought many into the kingdom.
Global Nomad: Are there current plans for expansion?
Peggy: The current means of expansion is due to years of intercession, waiting on lead of Holy Spirit.
1.One of our facilitators has moved his family back to his native village up-country and has developed 20 churches, as well as mentoring people to do what he does.
2. Another facilitator was given Le100,000 and went to a village where he knew no one, was gone 10 days - visited 4 villages - many salvations - left Bibles with school children who could read, to continue sharing the Gospel each day to the people.
3. This same facilitator went up to his native village in north district of SL - developed 18 house churches and mentored some to oversee them.
4. This same facilitator is now in Monrovia, Liberia, where he and another facilitator developed many 'house churches' - mentoring many to carry on the work as they reach further into the interior of the country.
5. Another is a school teacher in Port-Loko area and has developed many 'house churches in that area.
6. Prayer teams have begun to evolve by their own initiation and out of that ministry teams have begun to focus on local areas doing prayer walking/ spiritual warfare and now ministry in those given areas - people are beginning to take the initiative to listen to the leading of Holy Spirit and do it without expecting someone to hold their hand. We are so excited about this.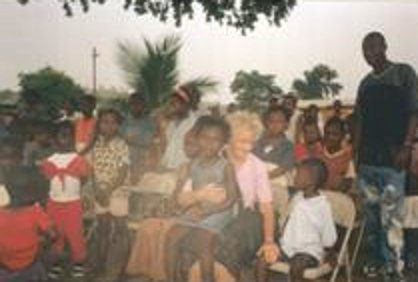 Global Nomad: What is the biggest challenge for Hope of Glory?
Peggy: Like all missions, funds are a great challenge - however, when the Bible School tuition and fees are due each month, at just the right time to pay, the money comes in. The development of the land will take a lot of money, hard workers, training, equipment, supplies, etc. Once the center is in place, our plan is for the ministry to become self-supportive, with income generating resources and local donors. However at this time we need huge funds, people, skills, trainers, etc.
Global Nomad: How can folk get involved?
Peggy: We have prayed for years for land, to develop a training center where we can continue to equip and send, including a vocational school, dormitory, agriculture for food and income and a place where celebration services can be held. We have lost a lot of money over land deals - becoming wiser - offers are coming forth to give us land - pray for wisdom and where-with-all as to what to do with this land in various places. I know nothing about construction, agriculture, architecture, etc. We need hard workers, skilled workers, trainers, tools, information how to garden, raise chickens, pigs, goats, etc., as well as funding for supplies, equipment, large investors, bookkeepers, teams to set us up in management procedures, etc. HELP !!!!
We have one Mazda van which we use for transport business - the roads here are challenging - so though we do make some money from the business, most of the earnings go for maintenance on the van. We thought we would aim for a fleet of vehicles to generate income - don't know if it is worth the effort - we will see.
We will take any and all helpers - the cost would have to come from their own support - don't know exactly of costs here as the exchange rate is changing drastically daily. We need construction 'grunt' workers to make bricks, dig foundation trenches, security wall, residence, vocational school, dormitory, barn, outbuildings for animals, latrine, shower house, generator housing, security equipment storage, etc. Airtravel costs vary, place to stay costs vary - we are looking into a nearby church camp that has facilities - don't know the cost. If skilled people can come for 2-3 month stint to train local people how to do certain things, or people just come for a week or two and do whatever labor is needed at the time - we would be more than grateful. Of course passports and visas are required in any country - I googled Sierra Leone Embassy in Washington DC and got my info - a year ago it was about $130. Yellow Fever vaccination is all that is required legally - would suggest anti-malaria tabs as directed. We have water filters for good drinking water. Don't know of other countries methods. When we don't have a class we can have people here with us - we live quite simply, but the Lord is sufficient. When funds are available and we can actually begin the development, we will have more exact info.
Global Nomad: Thank you so much for sharing with such verve about such an exciting project. We join with you in trusting for ongoing partnership and assistance to see all your goals achieved.