Louise's Wholehearted Joy in Giving
For many years I had an older pen pal friend who inspired me. I've often said or written to her, "Louise, when I grow up, I want to be a giver like you!" She has passed on to her reward now, but Louise's wholehearted joy in giving still is an example to me.
How We Met
We met through genealogy. Though I don't advertise the book I wrote back in the 1980s to honour my beloved Grosz'mama, it gets around. I have these surprise contacts from time to time, when someone has seen my book, "A Godly Inheritance," at a friend's place.
Louise had seen the book at another genealogist's home, and wrote to ask if I had any copies left. I wrote back. She ordered one, and sensing she was also a Christian, I wrote naturally about my faith and activities in church and at home. In no time we were "thick friends," She also had the Friesen name and was researching ancestry for the sake of her nieces and nephews. We have not found a link in our family trees, yet, but it's like a jigsaw puzzle you never completely put away. Knowing her, however, was to experience Louise's wholehearted joy in giving.
Louise's Background
Her parents settled in the Coaldale, Alberta area when they arrived in Canada in the 1920s. They were poor, but all worked hard to get started on a family farm. Louise went off to work in the city of Lethbridge to help bring in an income. Soon her shyer older sister, Margaret joined her in the hospital kitchens.
The sisters found a basement suite to rent nearby, and as soon as Louise could afford a car she bought one so they could go home to help on the farm whenever they had any days off. This continued until their retirement.
By that time, the elderly couple they rented from had died and left the house to Louise and Margaret! Now they had the whole property rent free. Though their parents were gone, the younger brother John, who also remained single, took over the family farm, and these sisters were there as often as not to do the canning, freezing etc., not only for themselves, but several other siblings in the larger cities, who were the recipients of Louise's wholehearted joy in giving.
Meeting Louise Face-to-Face
When Louise and I corresponded we often talked of our faith, and inspirational books we had read. She even sent me bundles of books to read! So when Dad and I were going to be in Lethbridge one weekend in March of 1998, I hoped to fit in a visit to meet Louise, and return her latest bundle of books.
A Sunday snowstorm made travel messy, so I was prepared to delay our return trip until noon on Monday, and called Louise. I got stuck in a foot of slush before we reached her place, so I was ready to just run the box of books to her door, say "Hi!" and "Thanks for the loan of your books," and then be on our way.
Not in Louise's mind!
We had to come in, meet her sister Margaret, a frail and gentle soul with Alzheimers, see her family albums, tour their home, and sit down for a lunch! The hours flew, but when I insisted we must be on our way, she loaded us down with healthy snacking foods, a bag of books, and a gift of money.
I was impressed; as was Dad. The joy of the Lord shone from Louise, together with boundless love and grace in giving and giving that never stops. "Lord, I want to be like Louise!" I prayed most of the afternoon on the highways. "Now I've met someone who gives the way I've always wanted to and I want Louise's wholehearted joy in giving!"
Various times when I've been in need of financial aid, and the Lord is the only one I told that too, He chose Louise to be the one to write me and tuck in a large bill of money.
Much as Louise loved her older sister, Margaret, and gladly made herself her sister's servant and nurse, the time came when she had to put Margaret into a Care Home, as it was impossible to do all the caregiving alone. Their lieisurely drives to B.C. to bring home a car full of fruit to preserve for their family and friends were over. Louise didn't know if she would ever go on another vacation.
Louise and John's Visit
Then one evening, Louise phoned to say that she and her brother John from the farm, were in Saskatoon, and would like to come by the next day before lunch - if it suited us.
Of course it suited! I scurried around the house on Saturday to get the cleaning done, and a nice lunch made. Once we were visiting I could hardly keep my wits together to get the table set. I was so distracted with delight and the lively conversations.
When they mentioned that their style of holidaying is to drive from one town to the next. When they see something interesting, they stop to enjoy it, museums being a big favourite for both of them. "Why, then we should take you to see our River Valley Museum here in Hague." I said. "It is a compound with an old-fashioned Mennonite house-barn combination, a one-room school, and a small church, besides the main museum building."
Both Louise and John loved the idea. Dad was happy to tag along. It took us hours to see most everything, visiting happily all the while. (My back knew it for two days afterwards).
Louise had sent an order for my novel just days before and overpaid to add on a birthday gift, so I felt she had already given generously. But three days later, as I came to my desk and moved over the calculator, there was a short note, and a $100 bill!
It is humbling to be the recipient of so many gifts, but oh, I look for Louise's wholehearted joy in giving in my own life. It is like a standard I measure myself against.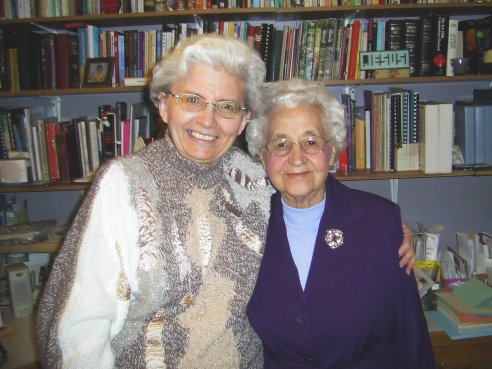 Louise was always ready to go the extra mile to help out others, and to do more than they ask - like giving a cup of water, and then watering all your camels too. Giving is to well up in our hearts. Maybe that's why you seldom hear of anyone offering lessons in joyful giving. But if you know someone like Louise in your life, you would be wise to cultivate her (or his) friendship so that you can learn by studying the examples you see and experience in that friendship.
Louise passed away a number of years ago, but from time to time her brother John still exercised Louise's wholehearted joy in giving toward me. Now I have not heard from him in over ten years, so he may be gone to his reward too.