When Leaders Give First
Truly successful fund-raising project get off the ground best when leaders give first. They need to set the example.
Do you feel that God has given you a vision for something He (God) wants done, but you don't know where the resources or funds will come from to accomplish it?
King David of Israel also had such a vision. (I Chronicles 29). His own heart and soul was in this goal of building a temple for his God. He wanted something permanent to replace the old tent tabernacle that God had given instructions for in the desert years from captivity in Egypt to their new home in Canaan. Of course, David couldn't start building right away.
However, as the national wealth grew, David set aside funds and purchased resources from far away places to stockpile and build up until God would give the go-ahead signal to build this grand temple in which to worship God. This saving and waiting took most of David's adult years as king.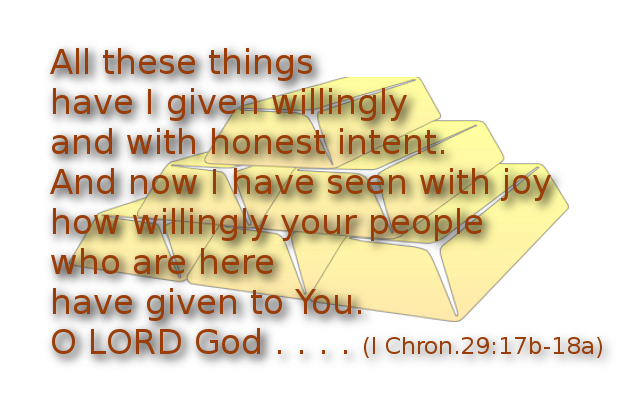 Then the Lord told him that He did not want David to build it because he was a man who had shed blood. Rather his son Solomon would build the temple.
So David called an assembly of Israel, and announced that Solomon was to be the next king, and he passed the vision on to him. At this point David asked the people if they would also like to give to this great thing. Of course, seeing his generosity, the leaders of Israel gave from their own resources, too.
It would seem that David had been spending national funds to bring in the resources, so now he dug even deeper into his personal coffers, and gave another large gift.
The take-away from David's example is quite obvious, isn't it? A leader who believes in a project must be the first one to do some serious giving to sponsor it. Then others will follow suit.
Living in poverty most of my life, I had little money to contribute to the ideas we had at Western Tract Mission (sometimes ones I had suggested myself), but then I threw myself behind them by doing a lot of the behind-the-scenes work to get the project rolling. I invested of my time and myself. I let my enthusiasm show publically. When I did that the rest of the Board and staff, and our supporters would step in and get involved too, in whatever way they could.
It is safe to make this a principle; if you want others to donate and get involved in a worthy project, step forth and show that you are ready to give and be involved. Better yet, see what happens when leaders give first.