Recycle Shopping Money to Give to Needy
You can recycle shopping money to give to needy friends or people abroad. I've mentioned this before, but it bears repeating.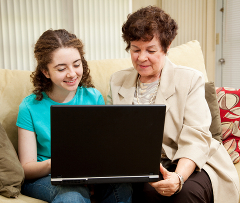 A few years ago I was cashing my rebate check from Ebates for shopping I did online months earlier. The teller was new and had to call her supervisor to show her how to cash a USA check here in Canada. In our friendly conversation, I asked if they knew that they did any shopping online. I was surprised to hear even the supervisor say, no, they didn't.
I explained that I've signed up with several of these rebate websites. When I want to buy something online I compare to see which of these portals will pay the greatest rebate percentage on my shopping money, and then click to that store from the best choice portal site. It sometimes takes six weeks or more, but the rebate shows up in my account. Most of them keep it until the total reaches a certain minimum, like $25 and then sends me a check in the mail, or deposits it to my PayPal account. - Then I'm free to recycle my shopping money, or - give it away.
The two super-cautious women were not sure this was safe.
I pointed out that Ebates (now known as Rakuten) has sent me several of what they call "FAT CHECKS". What's more, membership in all these rebate companies is totally free. There is nothing to lose except a little time at the beginning to sign up and learn how it works. Then there's money to gain. Yes, you can recycle shopping money!
My point is that these rebates are like found money; that money could be pledged to giving away. The more shopping you do online through these portals the more you have to give. Even if you are otherwise on a very limited budget.
Here are the basic perks of your free Rakuten (formerly Ebates) Membership:

You can get up to 40% cash back on almost everything you buy.

There are 2,000+ stores online that give cash back if you click through the Rakuten site to shop.

They also offer more than 10,000 coupons to get discounts - so you don't pay as much to begin with! Plus you can recycle the shopping money they give you back!

Now that you know this - feel free to JOIN Rakuten!

You will be able to recycle shopping money to give to needy people or ministries that you care about.
If you like this idea, there are a few others you can check out as well. Just develop the habit of logging into your shopping portal accounts BEFORE you do your shopping to see if the store you want to visit is shown in one of these, and which one offers the best cash-back deal. Then click from there to go to the store destination you want to shop at! Do this again before each online store you visit.
Some, like MyWorld and Rakuten, offer apps, so you can check and compare rebate rates while you stand in a store looking at some item! Handy! So it works when doing local in-person shopping as well.
I suggest you - join any or all of these free rebate sites:
MyWorld
(has great Global reach!)
Rakuten USA
or
Rakuten (Canada)
GreatCanadianRebates
(started as a Canadian site, but Americans can sign up too). Hey, you can shop online in Canada just as well as I can shop in the USA while living in Canada!
If these ideas raise new questions in your mind, browse around on this site. You may just find the answers. Check the
Articles Index
, the
Givers Index
, (real examples), the
Ideas/How-tos Index
, and
Worthy Causes Index
Let me know your thoughts and questions on giving in response to these articles.